Fully Customised Website Designs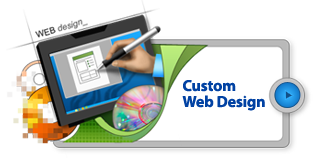 This type of site is custom designed to take into account all the elements of your business. Its design incorporates the identity of your company, its marketing strategy and your target market.
Specially designed for companies that have their target market in mind. If you want professional customised web design services that truly represents your business online, this is the right solution for you. This website is not just an online presence but acts more as a lead generator, it is also the key to your online marketing strategy.
This website fully customized is a great way for your business to have a presence on the web. Dedicated to entrepreneurs, like you, who know the true value of a website and who need specific functionality. A fully customised site combines a unique design as well as marketing and strategy features. To create it, we combine our knowledge and experience in the areas of web design, web development, web applications, e-commerce, marketing strategy and process optimization.
How to know if a fully customisable website is the best solution for you?
Well, if you can answer yes to most of these questions, this type of site matches your needs…
You are concerned about the image of your company
Your website is the main key to your marketing strategy
The budget is not your concern. You have a budget of at least $ 4,000
You do not want to have a simple model but a unique design
You want a website with a fully customized design that represents the values of your company
You need a website with special and sophisticated features such as Web applications, order forms, electronic commerce, an internal system, a creation event, a monitoring schedule, etc.
You need an ecommerce website
Your website is the ultimate key to your marketing plans and / or other operations of your business.
You prefer to have a unique and sophisticated design for your website
This is truly unique and represents your company as a whole. As with all of our websites, you have the option to change the content at any time, you can add images, photos and text.
We want to work together with you and your company. Our goal is to ensure that we learn enough about your business to create a custom web solution for your business. Personalisation is included in the design, development, structure, architecture and process optimisation of your website. Our unique designs are based on your target market, your customers and your goals. Design, programming, process optimisation, structural thinking and strategic marketing are some of the areas that we take into account when creating your site.
There are 2 major web design trends in the industry at the moment.
The first is a web design standardised, common and identical everywhere. With the democratisation of self-hosted sites or tens of thousands of templates that can be found all over the web, so it is inevitable to find identical graphic charts between several sites.
The second trend is a custom web design, suitable for a target that is necessarily directed at companies / contractors with funds to hire professionals designers. Sure, graphically speaking, this can be as much of a budget or fancy according to the company strategy and targets.